Sunshine Hardscape, Landscape & Nursery has been adding beauty and color to the Low country landscape and assisting residents and businesses with their hardscape and landscape decisions for over 25 years.
Our success has been founded on years of experience, exceptional training, a passion for the industry and excellent customer service. We have developed a reputation for quality work that is truly unique.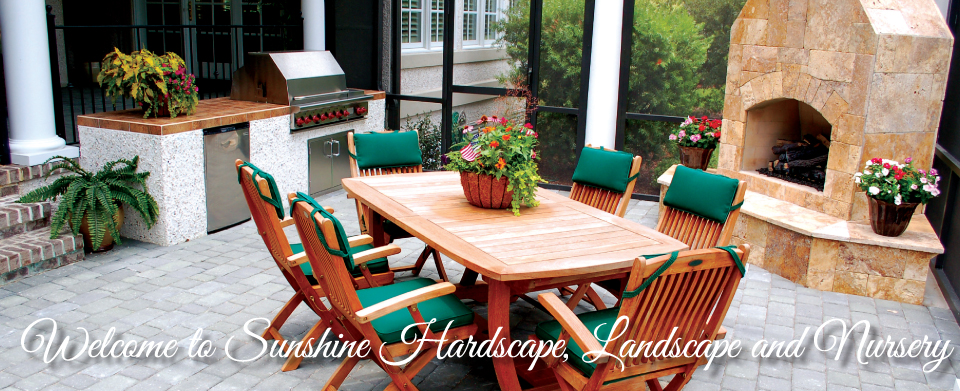 We are dedicated to producing quality installations that meet your needs both aesthetically and functionally.We have a team of Registered Landscape Architects, Certified Horticulturists and Irrigation Technicians ON STAFF.
We pride ourselves for being a convenient "one-stop shop" making your project more manageable. Whether you are in search for a multi-tiered paved patio with custom grill island, a service for your planters looking perfect or colorful plants being delivered and planted in your yard…. Sunshine can do it all.
What we offer: Creative and Custom Free Designs for Landscape and HardscapeDesign/Build for New Construction or Revitalizations
Custom Planters
Landscape Lighting
Driveways
Fire Pits
Custom Grill Islands
Walkways
Retaining Walls
Patios
Fireplaces
On-site Garden Center, Showrooms and Greenhouse to help you
get a hands-on feel for the plants and stone on your designs.
Our Guarantee: All Plants installed by Sunshine Landscape Contractors Inc. are guaranteed one year from the date of the installation provided they are under automatic irrigation, receive sufficient light and soil conditions. After assessment, if the plant does not survive, we will replace it free of charge.
Free Consultation: Contact a representative to make an appointment at your convenience. A representative will visit your home to examine your landscape, discuss your ideas and budget, personal needs and obstacles of your property  and take some measurements. We encourage you to ask questions. Then the design process for your unique project begins. After a design is crafted, we will promptly schedule your installation. 
Call Now! (843) 757-7256
Registered Landscape Architects, Certified Horticulturists and Irrigation Technicians