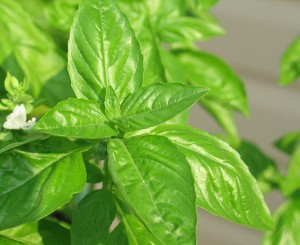 Growing Conditions
▪Full sun, but in the hottest months move the basil into afternoon shade
▪Water the basil on a daily basis, don't let it dry out
▪If the temperature is going to be 45 or below bring the basil inside for it does not like cooler temperatures
▪Use basil as the height in your planter either in the back of the planter or the middle. It does great with flowers for it doesn't over take them
Uses
▪Digestion- Italians add basil to almost every dish. They believe it has a calming effect on the stomach. You can also add ½ teaspoon of dried or fresh basil to water and drink to sooth indigestion and alleviate the feelings of fullness
▪Amish suggest using basil leaves to help alleviate coughing and colds. They chew fresh leaves to calm coughing
▪Stress reduction-Add 2 cups of strong basil leave tea to a warm bath to help reduce stress and facilitate relaxation.
▪Facial Steam for Headache- Add 1 tablespoon of dried basil leaves to 2 cups boiling water in a large pot, carefully lean over the pot and cover head with a towel, breath the steam for 5 to 10 minutes until headache starts to subside
▪Stings and bites- If you get bitten or stung by an insect, chew some basil leaves and apply to the bite this will help relieve the pain and draw out the venom
Basil oil is an antibacterial, adding a few drops of the basil oil may relieve ear infections
Basil Oil
1 Cup olive oil
2 Cups packed fresh basil leaves
Roughly chop the basil leaves, combine the basil leaves and the oil in a saucepan. Cook over medium-low heat for 5 minutes. Remove from the heat and let cool to room temperature then transfer the oil with the basil leaves to your sterilized jar and seal. You can store this oil in the refrigerator for up to one month. 
Culinary Uses/Tips
Its flavor blends well with parsley, rosemary, oregano, thyme, and sage

Leaves can be used in salads, with tomatoes, in pasta sauces, with vegetables, in soups and in meat and poultry stuffing

Try making  your very own homemade PESTO! (If you roast garlic first, it will make pesto sweeter)

If freezing your pesto and don't plan on using it for a few months don't add the garlic for it tends to become bitter
Presto Pesto #1
 2 Cups fresh basil leaves
¼ Cup olive oil
1 Garlic clove, peeled
½ Cup pine nuts
1/3 Cup parmesan cheese
A squeeze of fresh lemon juice
Salt, to taste. Roast garlic cloves and pine nuts on a baking sheet in a preheated 375 F oven for about 5 minutes. Put all the ingredients in a blender, blend to smooth and serve
Basil Pesto Recipe #2
 ½ Cup pine nuts
3 Garlic cloves
4 Cups packed fresh basil leaves, shredded
1 Cup extra virgin olive oil
1 Cup freshly grated parmesan cheese
 Salt to taste
Place all ingredients, except olive oil, in a blender, blend and add the olive oil slowly keep blending till smooth.
Basil Plants –  Hilton Head Basil Plants –  Bluffton Basil Plants